Cemetery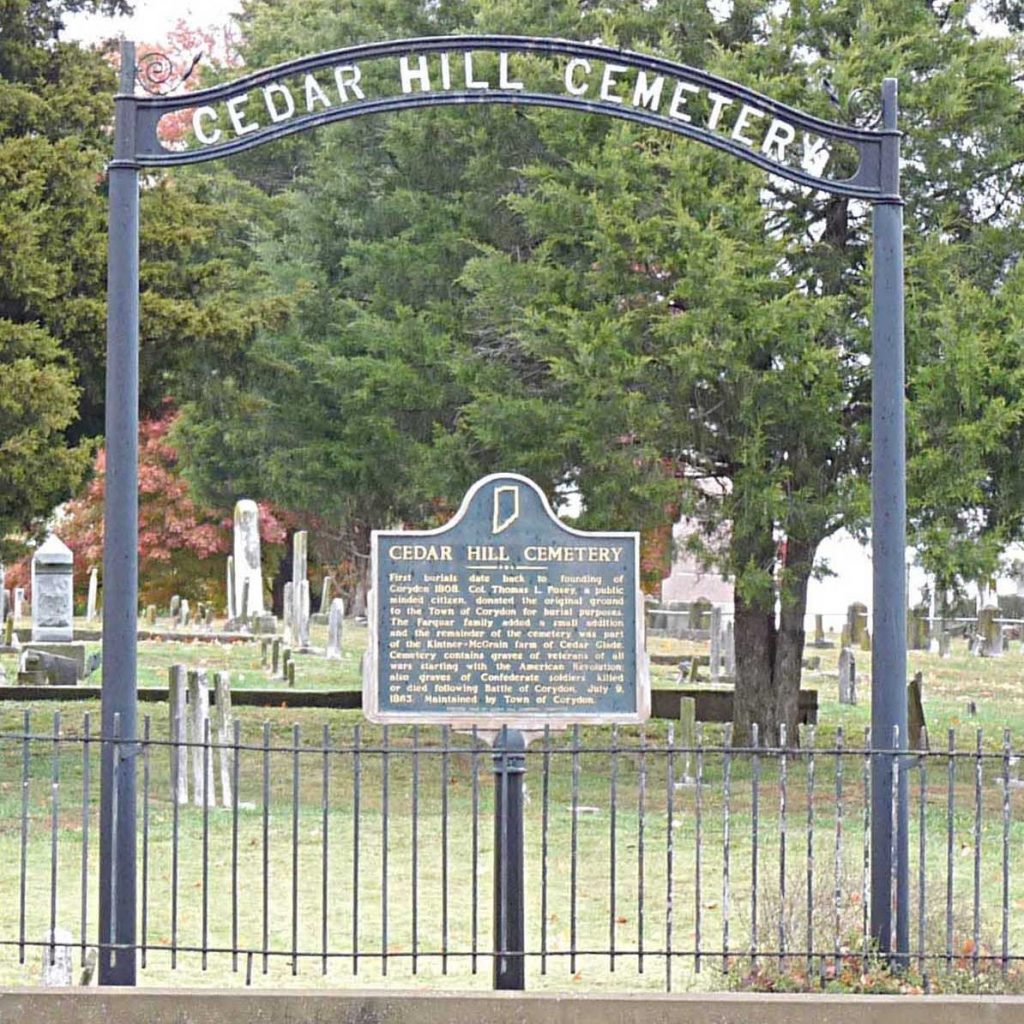 Resting Place for Your Loved Ones
Manager

Jim Smith is the Sexton/Manager of the Cemetery and is available for help with questions or guidance during the regular operating hours of the Cemetery. Smith serves as the Cedar Hill Cemetery and Town of Corydon's primary liaison with funeral directors by clarifying service arrangements, coordinating and participating in the planning of services and providing additional assistance as needed.
Hours of Operation:

Monday - Friday: 8:00 AM - 4:00 PM
Gate Open:

- Winter Months: 8:00 AM until 4:00 PM
- Summer Months: 8:00 AM until Dusk
Additional Sexton Functions
Opening and Closing Graves

One of the main functions of a sexton is to open and close graves for interments. In order to do that, the sexton must know where the plots are physically located in the cemetery, the dimensions of the plots, and which graves are filled, and it is the sexton's responsibility not to disturb prior interments when opening graves. It would not be a good thing for the backhoe to hit another casket. In some cases, this means that the sexton must use a Sexton's Key to probe the ground and make certain the neighboring graves will not be disturbed.


Selling Plots

Another major function of a cemetery sexton is to be able to show prospective buyers available lots. That means that the sexton must not only keep up with what plots are filled, but also what lots are sold. The sale of a cemetery plot is pretty much like the sale of any real estate.


Placing Headstones

Once a headstone is shipped to the cemetery, it is the sexton's responsibility to know where the monument is to be installed and direct the installation. In many cemeteries, it is also the sexton's responsibility to notify the installers when the stone arrives.
Record Keeping

Responsible for all Cedar Hill Cemetery Records and files. Sexton must be capable of operating office equipment including computer, printers, facsimile machines, hardware/software, applications, data sticks, disc, and programs utilized for the cemetery record keeping.
Grounds Maintenance

This not only includes mowing and snow removal, but also the upkeep of trees and plantings, the cemetery fence, signage, and any memorial areas in the cemetery.



Rules and Regulations


The Sexton is responsible for enforcing the cemetery rules and regulations, when people can visit, conduct in the cemetery, and litter. Similarly, most modern cemeteries have rules about what can be installed at a grave, and what can be placed at a grave. Some cemeteries do not allow planting at graves, holiday decorations, lighting, or other memorabilia, while others will allow some or all of these things. Many cemeteries have rules about live and even artificial flowers and post signage stating flowers will be removed on a certain date. This helps to keep the cemetery clean and fresh of pots of dead flowers throughout the harsh winter. (See Public Notice Rules & Regulations of the Cedar Hill Cemetery Rev. 1-11-17)
Mapping/Platting

Modern cemeteries are typically platted out and every square inch is accounted for. The cemetery may be comprised of different lot layouts in different sections of the cemetery. There may be conflicting sizes of graves and usually some smaller crematory plots. A map is created and each grave is identified by some naming or numbering scheme, usually identifying sections, blocks, lots, and plots, and it is the job of the sexton to maintain this map. This map is essential in the ability to do their job.



Bonding


Sexton must be capable of being bonded according to State & Local Laws regarding the handling of cemetery funds in accordance with the State of Indiana Code and laws.
Cedar Hill Cemetery Manager/Sexton
8:00AM - 4:30PM
Summer Open Until Dusk
673 North Maple Street
Corydon, IN 47112